Des Voigne Cellars: Premium Washington Wines with Soul
Welcome to Des Voigne Cellars

Des Voigne Cellars has built a reputation for being a fun place to taste good wine.  Located in the Woodinville Warehouse District, we are a small family owned winery.   Since 2004 we have specialized in crafting fun, vibrant wines using both traditional and unique varietals and blends.  We believe that wine is music in a bottle, best enjoyed with friends it can turn the ordinary into the sublime.
Tasting Room Hours:
19501 144th Ave NE Suite B-500 Woodinville, WA 98072
Saturdays 1:00 to 5:00
($5.00 Tasting Fee refunded with wine purchase)
The Wine
The best way to get our wine into new spots is for you to ask if they carry us, so if your favorite wine shop or restaurant isn't on the following list tell them what they're missing! Click here for an incomplete list of where you can find our wines.
Winemaker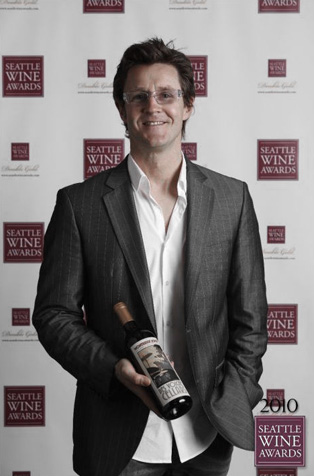 Darren Des Voigne
Darren and Melissa Des Voigne started Des Voigne Cellars in 2004, a few years after a long honeymoon that took them all over Italy.  After spending weeks eating and drinking their way through the country, and having spent one week at a winery in Castellina in Chianti (just as the historic 1997 Chiantis were being released) they decided to abandon their half-formed plan of opening a wine shop and take their garage wine making hobby to the next level.
With the help of UC Davis seminars and Darren's brother, Derek (owner/winemaker of Cuillin Hills Winery) Darren honed his wine making style to become one of the two best Des Voigne brothers currently producing wine in Woodinville.
Darren is also an avid collector of vintage jazz records and admirer of Deco poster art, interests which inspired the look and names of all of Des Voigne Cellars' wines.
The Winery
Winery Location:
19501 144th Ave NE | Suite B-500 | Woodinville, WA 98072 USA
Driving Directions to Des Voigne Cellars:
Drive North or South on 405 and proceed to SR522 East. Continue East on SR522 then Take the 2nd exit (195th ST / Duvall). Turn right on 195th ST and continue up the hill to the 2nd light and turn left on 144th ST. Continue about 300 yards then take a left into Woodinville Park North (a warehouse complex).
Charitable Contribution Requests:
Des Voigne Cellars is active in our community and proud to support many charitable organizations, focusing primarily on children's causes. We receive hundreds of donation requests annually from many worthy causes, and being a small business our donation budget can't possibly reach everyone. To be considered for donations please submit your request via email to contact@dvcellars.com and and include all information about the charity including solicitation forms, donor recognition and 501c(3) tax identfication number. Your request will be reviewed promptly and we will contact you if we are able to accommodate your request. We do not take donation solicitations over the phone or at the tasting room.
Contact Us
Got something to say? What are you waiting for. Spill it…